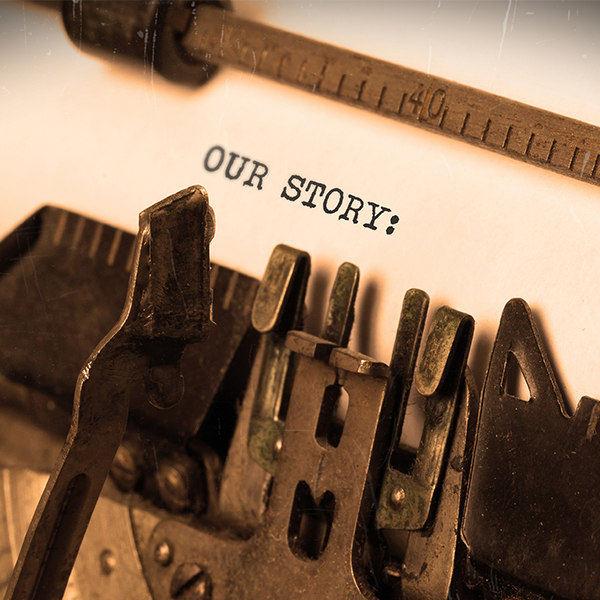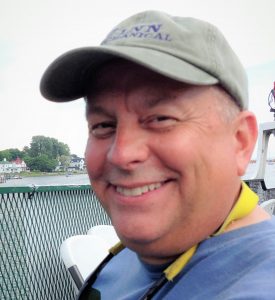 Welcome to Zinn Mechanical, a family owned and operated business with over 30 years of experience serving homes, churches and businesses in Northeast Ohio. We strive to take the very best care of our customers from the first phone call to the office through the service, installation and maintenance processes.
We focus on four major principles: Integrity, Honesty, Reliability and Efficiency.
Our reputation is reinforced by a long history of customers who refer their family, friends and associates to us. We are forever grateful for the continuing support. We want every customer to feel a part of the Zinn Family. No matter what the reason, we are always here to help you.
- Randy Zinn
"The Zinn Way" For Installing Air Conditioning & Heating Systems
By Beth Newcomb
Anyone can sell you an air conditioner or furnace. A trip to the box store is proof of that. But it takes a higher level of expertise to design a heating, ventilation and air conditioning system (HVAC) that will ensure the hot and cold air you're pumping through the house reaches each room equally. It's an art, and a science, says Randy Zinn Sr., who, along with his wife, Colleen, is the owner of Zinn Mechanical, one of the area's leading residential and commercial heating and air conditioning specialists.
"We're a design-build firm," Randy explains, acknowledging the term can be a little scary to homeowners on a budget, but it need not be. "The 'mechanical' part of our name means we can do all kinds of things the other companies can't. Quite simply, we specialize in replacing aged-out HVAC systems in a manner that ensures the new system will accomplish what the other system couldn't. Things like maintaining a consistent temperature from room to room, cleaning and conditioning the air, installing a right-size air conditioner, furnace, heat pump or boiler, being energy efficient, humidifying or dehumidifying the air and killing airborne viruses."
So, What About the Design-Build Part?
Instead of removing an old air conditioner or furnace and dropping a new one in its place, the Zinn Team will carefully analyze the air flow requirements in each home and spends time asking homeowners a lot of questions regarding their wants, needs and lifestyle. Do they have allergies? Do they have pets? Is one bedroom colder than another? After the Q & A, a plan is created for the equipment and for how the duct-work should be installed. That plan is presented to the homeowners along with a fair price and the decision to move forward goes from there.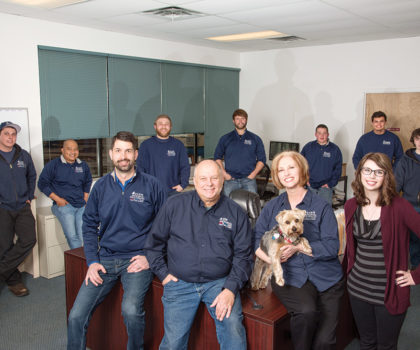 Zinn Mechanical's Randy and Colleen Zinn (holding Jax), their daughter, Sam (right), and son, Paul (left) along with their dedicated team, have been "doing the right thing" by their customers since 2005. The Christian-based company has enjoyed a dedicated word-of-mouth following.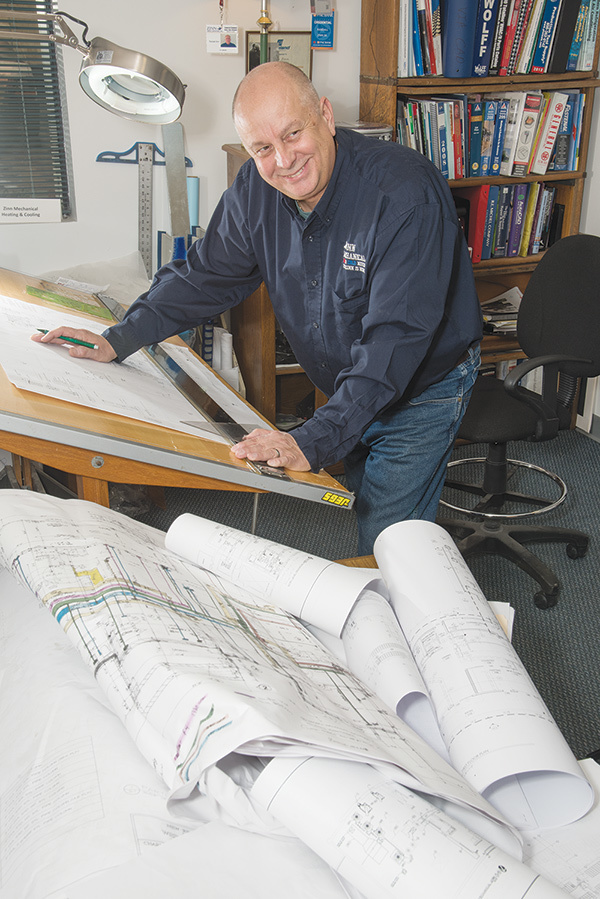 "We don't drop in a standard out-of-the-box system that doesn't meet your needs," he says. "We create a new system that conforms to your home. With today's technology, it doesn't make sense to spend the money on a new furnace that isn't designed to work with old ductwork. That's just wasted money. You're still going to have the same problems with air quality you had before. Along with installing a new unit, we design a new plan for ductwork that matches the system."
As an Independent American Standard Customer Care Dealer, that's the brand Randy and his crew count on to keep customers cool in the summer and warm in the winter.
One of the first questions I had was about price. Surely the expertise of someone with more than 40 years of experience and a custom ductwork design don't come cheap, right? Not so, says Randy. "Most people are shocked to learn how competitive we are on price," he notes. "It costs about the same to have our you'll feel the difference every time you turn the furnace or air conditioner on."
Randy says one of the biggest aspects Zinn Mechanical brings to the table is its focus on values. "We're a Christian company and our values are reflected in everything we do," he stresses. "We don't do things because they're easier. We do things because they're the right thing to do. That's the promise we make to our customers and it's largely the reason we've enjoyed a word-of-mouth referral business since we started in 2005."
Here's a taste of what you can expect when you call Zinn Mechanical to install your new HVAC system:
Friendly, certified technicians and installers;
The Zinn Team to treat you and your home with respect;
All employees background checked and drug tested;
Zinn Mechanical is licensed, bonded and insured;
Zinn's HVAC equipment proposal is all inclusive (not an estimate that could fluctuate)
Zinn Mechanical also creates all of its ductwork on-site, so you don't have to pay for a middleman to create it and your install isn't bogged down by delays.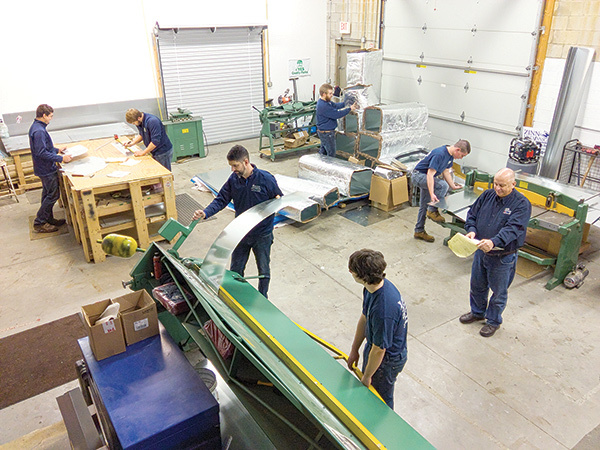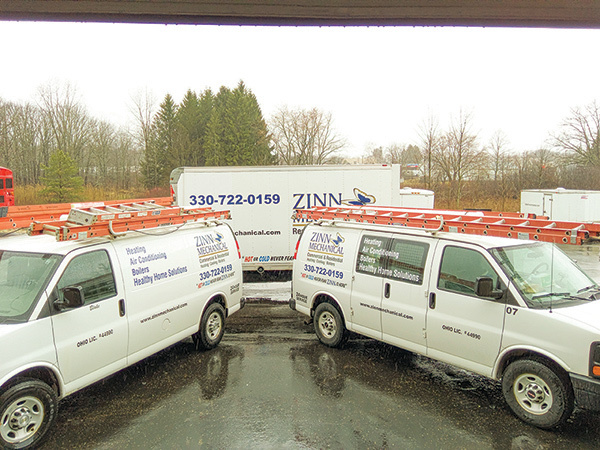 Superior Service Calls
Service is another area where Zinn Mechanical shines. "We service every make and model of air conditioning and heating equipment," Randy assures. "It doesn't matter if you bought the unit from us or not, we'll keep you up and running all season long, be it a holiday, a Sunday, or the middle of the night. Our service is 24/7/365."
No matter how small or large your project is, Zinn will ensure quality workmanship and service. "We'll help you get the most life out of your air conditioner or heating equipment," he assures. "And if you have an emergency, we react quickly to get you back up and running."
Zinn Mechanical is located at 1486 Medina Road, Ste 203, and services customers throughout Northeast Ohio. To schedule a no-obligation HVAC System proposal to replace or add equipment, you can call the company at (330) 722-0159. Office hours are Monday-Friday, 7:30 a.m.-4:30 p.m. with on-call emergency assistance available 24/7/365.